WHAT CAN YOU DO? In these unprecedented times, you can certainly make a difference as farmers have been hit hard. The closure of restaurants and food service programs who buy from local farmers provided essential and predictable revenue for many small growers and meat producers, even dairies and creameries. The closure of many farmers markets for a period of time cut off access for farmers and customers to reach each other. Mass layoffs for loyal customers has meant fewer people buying local food. Farmworkers, long under-resourced and without proper safety nets, are now considered essential workers and struggle without affordable health care.
The good news is that you can help! Many people are seeking out local farm products for the first time and wanting fresh food with a more direct supply chain between farm and market. Buying products from nearby farms, growing your own food, cooking with locally sourced ingredients, and volunteering in the food system will all contribute to proactively addressing climate change.
Consider buying from local farms:
Interested in Volunteering? Opportunities are available. Please e-mail sammamishvalleygrange286@gmail.com for information.
Read more about local farming and how to get involved in your food system from our partners at 21 Acres.
For a growing list of Sammamish Valley farms and agricultural businesses, click here; compiled and published by our partners, Sammamish Valley Alliance.
---
Sammamish Valley Fresh Pop-Up Market Saw Resounding Success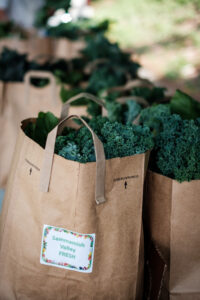 Dear Sammamish Valley Fresh Pop-up Market supporters: We want to share with you the great news of our Sammamish Valley Fresh 2020 seasonal pop-up market, and thank you for your support of local farm businesses. In eleven weeks, we purchased nearly $11,000 of fresh, organically grown produce from a dozen local farmers. Our fabulous volunteers then re-packed that food into individual bags for weekly distribution. Collectively, you purchased 250 bags of produce totaling $7,500, plus an additional $1,000 in 'bulk' sales. Additionally, nearly $2,500 worth of fresh produce was donated to Woodinville Storehouse Food Bank, Camp Unity and the Northshore Senior Center.
This has been a very fulfilling experience for us with Sammamish Valley Alliance and our partners in Sammamish Valley Grange. We deepened our relationship with many local farmers, we met new volunteers and we discovered a new outlet for local, fresh food. You all responded with drive-through purchases and words of encouragement. Because of your fabulous support, we are resolute in our commitment to connect you with local farmers, local food, and we look forward to finding innovative ways to make that happen. Thank you for this very successful kick-off season. We all look forward to seeing you next year.
If you have any questions on any of our SVA activities, don't hesitate to get in touch.
Best regards, Tom Quigley, President; Sammamish Valley Alliance
Follow us on Facebook and Instagram too! Thank you for supporting your Sammamish Valley farms and businesses. For more information e-mail bvanderloop.sva@gmail.com.