Grange members look forward to participating in several annual events and activities. Stay tuned and check back for more details. SAVE THE DATE: SV Grange partners with Sammamish Valley Alliance on three annual Celebration events. Coming up in 2022: Spring Harvest Celebration, Sat., May 7; Summer Celebration, Sat. July 23; Fall Harvest Celebration, Sat. Sept. 24th. NOTE: During these unprecedented times and restrictions due to the Coronavirus and Covid-19, please stay tuned for information on events and community activities.
---
Sammamish Valley Alliance Presented the Fall Harvest Celebration; Sat. September 25, 2021. Home base for this event was at 21 Acres in Woodinville as we were happy to gather again "in-person." Sammamish Valley Grange members were on-site with President Tom Quigley and his 100-year old apple press. Each annual event celebrates the season! Local farm stands, markets and stores that support local agriculture in our beautiful Sammamish Valley were featured during the event. Visit the SVA website to learn more.
---
NSD 2021 School Board Candidate Forum
This candidate forum was held in mid-July at the Grange Hall in Woodinville. Co-sponsors were Sammamish Valley Grange and The Woodinville Weekly with Moderator, Laura Guido, Editor, The Woodinville Weekly. There are three open positions on the Northshore School Board, with the primary scheduled in August, 2021 and the election in November. All candidates were invited with the Forum open to the public and all ages invited to attend. Each candidate was asked the same questions and had the same time to answer the questions. The community was very supportive and interested in the event.
---
Annual Farmers Roundtables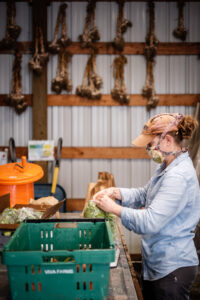 The recent Farmers Roundtables, most recently in November 2021, were a resounding success. Thank you to all the participants, Grange members and community residents for your support of our local farmers. Stay tuned for more Roundtables in 2022. Photo Margaret Felts, Gaining Ground.
---
Wreath Making with Rotaract & Interact
We were thrilled to partner again with our Interact and Rotaract students for the annual Sammamish Valley Grange wreath making event at the 2021 Celebrate Woodinville Winterfest event. Volunteer work teams were organized to construct wreaths and local residents enjoyed making their personal wreaths at DeYoung Park. Local greens, sprigs and branches were harvested in advance and completed wreaths were made available to the public through advance on-line orders. Partial proceeds of wreath sales benefited Sammamish Valley Alliance. All wreaths were sold to our supportive community members. Thank you for sharing the spirit of the season and for supporting our local organizations.
---
Local Grange members have been promoting agriculture since 1909 when it was founded in Bothell, Washington to assist farmers, through its move in the 1920's to its current location in the 1960's, to the historic Grange Hall located at 14654 148th Avenue NE in Woodinville.