Upcoming programs TBD. NOTE: During these unprecedented times and restrictions due to the Coronavirus and Covid-19, we will be hosting VIRTUAL programs. Programming will commence again in February, 2021. Stay tuned!
Sammamish Valley Grange community programs are the first Wednesday of the month beginning at 7 p.m. Members and guests come together to share local, regional, State and National Grange information and to discuss and review current issues of importance to the local organization. Programs are FREE, open to the public and all ages welcome!
Plan for your Sammamish Valley Holiday Wreath
The annual Sammamish Valley Grange wreath making event takes a different spin this year in 2020 due to Covid-19 restrictions. In conjunction with Woodinville Rotaracts, volunteer work teams will be organized throughout November to construct wreaths. Local greens, sprigs and branches are being harvested as we speak. Completed wreaths will be available to the public through advance on-line orders with a suggested donation. Wreaths will be available for pick-up with dates and details forthcoming. Partial proceeds of wreath sales will benefit Sammamish Valley Alliance. While this isn't our ever-popular public holiday wreath-making activity, we want to share the spirit of the season with you, and encourage you to support our local organizations with your wreath orders. Stay tuned for further details!
Fourth Annual Farmers Roundtable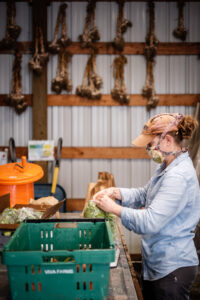 The recent Farmers Roundtable, held in early November 2020, was a resounding success. Thank you to all the participants, Grange members and community residents for your support of our local farmers. If you're interested in watching the Zoom video of the program, jot an e-mail to sammamishvalleygrange286@gmail.com. We'll send you the link to download (sent as a large file at 300+MB.)
---
Programs are currently offered virtually on Zoom. In working to improve the rural nature of the Sammamish Valley, the Grange shares its mission through educational outreach and neighborly engagement. Membership in the Grange is open to the public. For more information, please e-mail sammamishvalleygrange286@gmail.com.
---
Past programs included:
Fourth Annual Farmers Roundtable, November 2020
Partnering for Environmental Stewardship, October 2020
Native Pollinators: Garden and Habitat Restoration, September 2020
Greenhouse 101 with Andrew and Antoine/Regeneration Farm, February 2020
Farmers RoundTable (third annual), November 2019
City of Woodinville Candidate Town Hall, October 2019
Herbs are People's Medicine with Eaglesong Gardener; October 2019
Backyard Chickens and Fowl 101; September 2019
Grange Annual Picnic, July 2019
The Falconer, June 2019
Modified, the Film; May 2019
BEEvesting in our Community (Mason Bee distribution); April 2019
Farm Bill Impacts Sammamish Valley, Regional Agriculture and Local Food Systems; March 2019
Fossil Free King County; February 2019