Check out our Upcoming Virtual Programs! November 4, Annual Farmers RoundTable; December (TBD). 2021 Programs TBD. NOTE: During these unprecedented times and restrictions due to the Coronavirus and Covid-19, we will be hosting VIRTUAL programs.
Sammamish Valley Grange community programs are the first Wednesday of the month beginning at 7 p.m. Members and guests come together to share local, regional, State and National Grange information and to discuss and review current issues of importance to the local organization. Programs are FREE, open to the public and all ages welcome!
Wed., November 4th, 2020; 7 p.m.–Annual Farmers RoundTable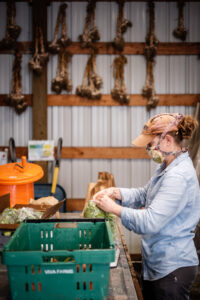 The fourth annual Farmers Roundtable will be held Wednesday, November 4th, 7 p.m., virtually via Zoom, as part of the on-going series of Community Education programs presented by the Sammamish Valley Grange in Woodinville. These popular Roundtables gather our local farmers and resident gardeners, both long-term producers and seasonal growers, to share knowledge on a variety of discussion topics.  This free, virtual Zoom presentation will present an opportunity to engage with each other on the challenges from the year, including Covid-19 protocols and restrictions, along with pertinent issues related to soil health, pest control, equipment access, new technologies and of course, improvements and approaches to look forward to throughout the 2021 growing season.
Everyone is welcome to attend the program and meet those who are committed to bringing local food into our community. Due to the engaging conversation and the popularity of previous Roundtables, this program could extend past the usual 8 p.m. close. Please join the incubator, student and experienced farmers in the Sammamish Valley and connect and network with other farmers and growers in the area. Please register in advance for this free program; a Zoom link will be provided upon registration. Click here to register; you'll receive a return e-mail with the Zoom link.
Programs are currently offered virtually on Zoom. December activities will be announced soon. In working to improve the rural nature of the Sammamish Valley, the Grange shares its mission through educational outreach and neighborly engagement. Membership in the Grange is open to the public. For more information, please e-mail sammamishvalleygrange286@gmail.com.
---
Past programs included:
Partnering for Environmental Stewardship, October 2020
Native Pollinators: Garden and Habitat Restoration, September 2020
Greenhouse 101 with Andrew and Antoine/Regeneration Farm, February 2020
Farmers RoundTable (third annual), November 2019
City of Woodinville Candidate Town Hall, October 2019
Herbs are People's Medicine with Eaglesong Gardener; October 2019
Backyard Chickens and Fowl 101; September 2019
Grange Annual Picnic, July 2019
The Falconer, June 2019
Modified, the Film; May 2019
BEEvesting in our Community (Mason Bee distribution); April 2019
Farm Bill Impacts Sammamish Valley, Regional Agriculture and Local Food Systems; March 2019
Fossil Free King County; February 2019